The Shashemene Health Science College graduated 245 midwives on May 12 as part of the one-year Accelerated Midwifery Programme (AMP) being undertaken by the Federal Ministry of Health. The graduates received their credentials from the hands of H.E. Dr. Tedros Adhanom, Minister of Health.
The AMP which is being implemented in midwifery training institutions in six regions in Ethiopia has the aim of reducing maternal and neonatal mortality and morbidity and achieving MDG5. Every year more than 14,000 women die in Ethiopia due to pregnancy and child birth and only 10 percent of them are delivering at health facilities. The Accelerated Midwifery Programme is a response to country's Human Resources for Health Strategy which has set a target of training 8,635 midwives by the year 2015.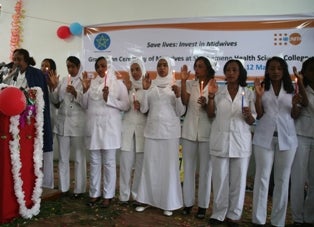 The AMP is training qualified Diploma level nurses into midwives. The programme is being implemented in 15 midwifery training institutions in six regions in the country - Addis Ababa, Amhara, Benishangul-Gumuz, Gambella, Oromiya, and SNNPR. The graduates which will be deployed at health centres are expected to boost skilled attendance at birth and improve provision of reproductive health services, especially in rural areas.
UNFPA, the United Nations Population Fund, provided financial and technical support to the tune of more than 16 million Birr and will continue to fund the next batch of the students.  The fund was secured from the Swedish International Development Agency (SIDA).
Senior government officials, representatives of various partners and invited guests were present at the graduation ceremony.
Meanwhile, the International Day of the Midwife was celebrated in a two-day workshop which was held here in Addis Ababa on 4 and 5 May and attended by over 350 midwives. The day was observed in Ethiopia for the 20th time and had the theme "Save lives: Invest in midwives." The State of World Midwifery Report 2011 was presented at the event.