he 4-day Annual UNFPA-ICM Midwifery Programme Review Workshop involving 60 participants from 30 countries from Africa, Asia and the Caribbean started today. The workshop is being held with the purpose of strengthening regulatory measures that will further help in promoting midwifery as a profession.
This is believed to impact positively on the practice and code of ethics thereby ensuring quality in service delivery by promoting better recruitment and retention of midwives to save lives.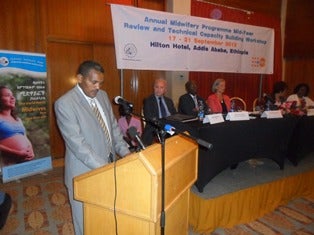 Delivering a remark on the occasion, Dr. Kebede Worku, State Minister of Health, noted that "universal access to services can be achieved if the health facilities have adequate health workers, especially midwives, to provide basic emergency obstetric care." He went on to say that the government is committed to invest in human resources for maternal health including midwives.
On his part, Mr. Benoit Kalasa, UNFPA Country Representative, said "maternal death and disability could be reduced dramatically if every woman had access to health services and a midwife throughout her life cycle, especially during pregnancy, childbirth and post delivery.
The Midwifery Programme - otherwise known as "Investing in Midwives and others with Midwifery Skills Programme - was jointly launched in 2008 by UNFPA, United Nations Population Fund, and the International Confederation of Midwives (ICM) to help countries strengthen their midwifery programmes and policies. The focus of the programme has been on developing and strengthening midwifery education and accreditation mechanisms; strengthening regulatory mechanisms; promoting the development of midwifery associations; and advocating for the promotion of midwives as a key health workforce essential for the achievement of MDGs 4 and 5. Thirty midwifery advisers are working with relevant stakeholders in 30 countries to improve the quality of midwifery training and services, policies and associations with technical support from the ICM international and regional advisers.
Every year since the launch of the programme, annual technical capacity building workshops have been held to measure progress, address challenges and help build the knowledge and capacity of the country midwife advisors on the Midwifery Programme and provide a forum of interaction among members of the programme team.
The workshop was attended by senior government officials and dignitaries from the UN, Civil Society Organizations, ICM and UNFPA international and regional advisers, Country Midwife Advisors, and other invited guests.