"Family planning needs to be more accessible as one major step in the effort at reducing maternal death," said H.E Dr. Lia Tadesse, Minister of Health of Ethiopia, at a high level event held today to launch Ethiopia's FP2030 commitment. She noted that the launching of the FP2030 commitments is a demonstration of the strong commitment of the government in improving maternal and adolescent and youth health working closely with partners.  
Through the FP2030 commitments, the Ethiopian government aims at decreasing the unmet need for family planning from the current level of 22 percent to 17 percent by 2030.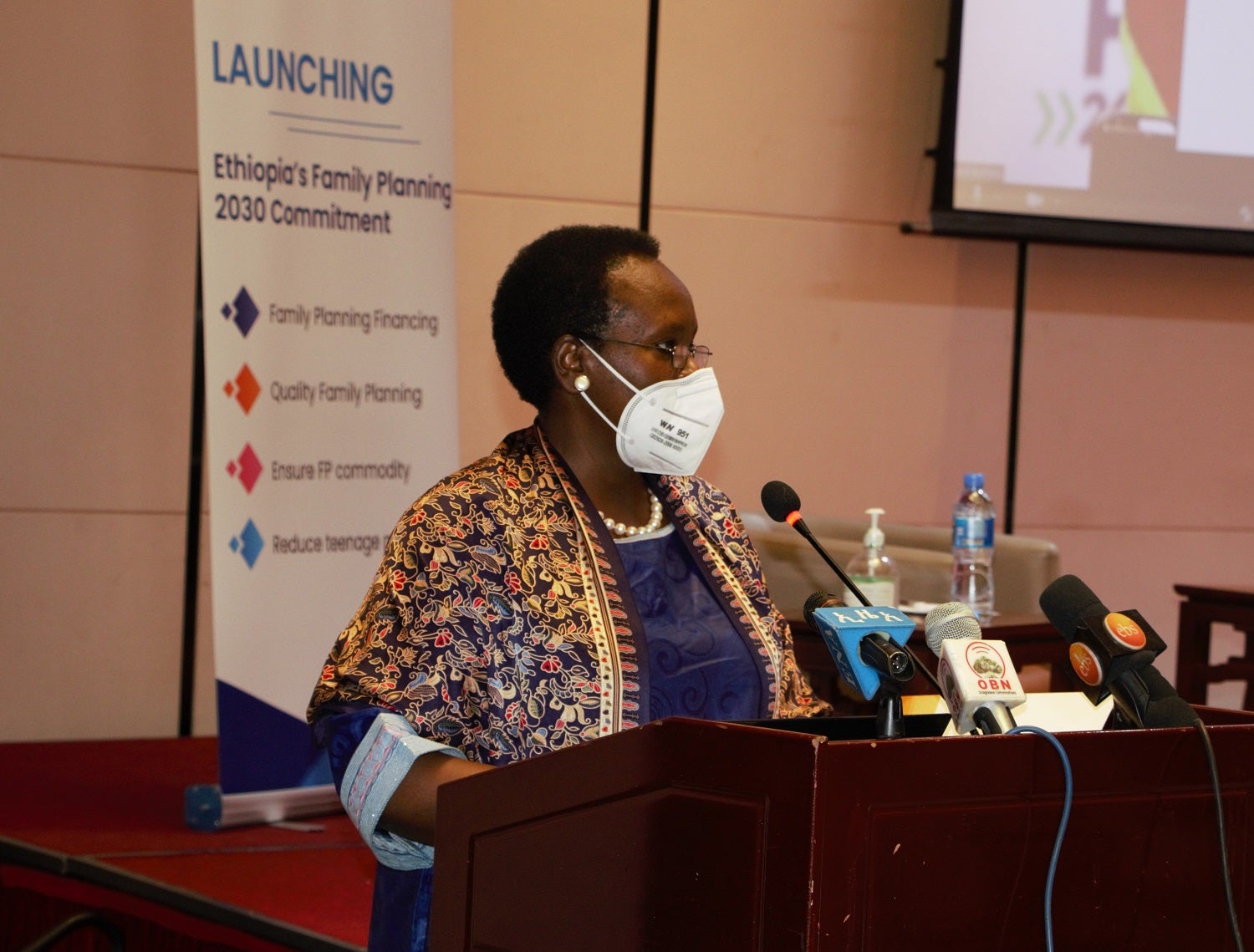 Making remarks at this high level event jointly organized by the Ministry of Health of Ethiopia, UNFPA, and other partners, Ms. Esperance Fundira, Head of UNFPA, appreciated the phenomenal progress Ethiopia has made in recent decades in increasing the Contraceptive Prevalence Rate, reducing the unmet need for family planning and reducing maternal morbidity and mortality. She underscored that "the FP 2030 commitment presents an opportunity to promote cross-sectoral partnerships to place family planning at the center of national and global development agenda."
 As a result of the predecessor commitment, FP2020 commitment, Ethiopia managed to provide protection through modern contraceptives to millions of women and girls averting millions of unintended pregnancies and unsafe abortions as well as thousands of maternal deaths. But a lot remains to be done in reinforcing a collective effort to reach the last mile in ensuring access to voluntary family planning to millions of women and girls in the country.   Ethiopia still has very high rates of adolescent pregnancy leading to complications during pregnancy and childbirth being the primary cause of maternal death. In its FP 2030 commitment Ethiopia aims to reduce teenage pregnancy among adolescent girls from the current 13 percent to 3 percent by 2030.
The panel discussion that was held during the high level event served as a moment to reflect on key achievements, challenges and opportunities for scaling up access to voluntary family planning as part of the FP 2030 commitment. It also explored the central role of increasing access to voluntary family planning in Ethiopia's effort at enabling women and girls to fulfil their potential.   
The high level event saw a clear demonstration of the commitment of the government to increase domestic financing for expansion of voluntary family planning services as part of the FP2030 commitments.
The participants of the high level meeting agreed on the need to increase investment and make strategic decisions to increase access to voluntary family planning through tailored, evidence-based, participatory and multi-sectoral programmes. A call was also made on all partners to lend their unwavering support behind the effort.