UNFPA today handed over an ambulance to the Afar Regional Health Bureau. The ambulance was purchased with the generous funding of the Government of Denmark as part of a humanitarian-peace-development nexus programme entitled "Integrated Project on Sexual & Reproductive Health, GBV and COVID-19 among women in Afar region in Ethiopia."
UNFPA has been supporting this Danish funded programme since August last year in six woredas in the Afar Region. The programme has contributed to improving the low maternal health indicators in its implementation districts. Only 15 percent of women in the region are delivering at a health facility and skilled birth attendance remains only a little more than 11 percent according to the Ethiopian Demographic and Health Survey of 2016.
Ms. Teyiba Mohammed, Deputy Head of the Afar Regional Health Bureau said at the hand-over ceremony that the Dubti District which will be using the ambulance is geographically wide and has a referral hospital noting that the assistance is well placed.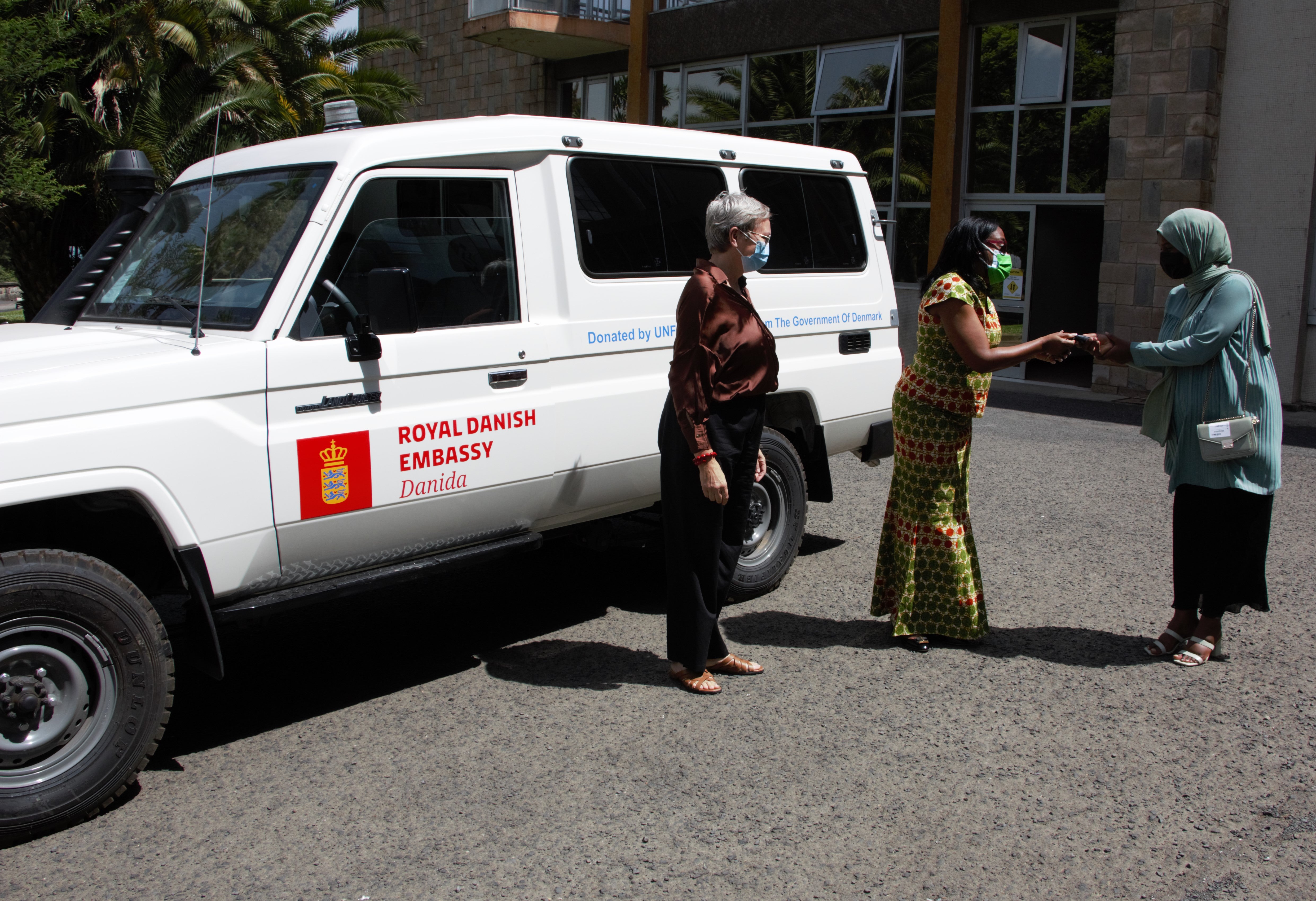 Speaking on the occasion H.E. Karin Poulsen, Ambassador of Denmark to Ethiopia, said that enhancing health services, outreach and building the capacity of health teams will make a great difference for women and children in the Afar Region. She went on to remark that "the ambulance we are handing over today will reinforce the Afar Region's effort at increasing skilled birth attendance in the region and improving lifesaving referral systems.
The programme has facilitated the strengthening of the health system in the implementation districts mainly through the provision of capacity development of health personnel and health institutions as well as through the provision of reproductive health commodities and essential maternal health supplies to ensure continuity of essential sexual and reproductive health services, particularly in the context of the national COVID-19 response.
On her part, Ms. Dennia Gayle, Country Representative of UNFPA, said on the occasion "the ambulance that was handed over today is expected to strengthen the referral linkages in addressing obstetric complications and other critical cases." She added that this would enhance the efforts at promoting safe delivery and ending preventable maternal deaths in the region.
The integrated programme is being implemented in the Afambo, Asayita, Awash, Chifra, Dubti, and Mille woredas, including in humanitarian settings. In addition to ensuring continuity of essential reproductive health services, the programme has also improved access to gender-based violence prevention and protection services integrated with the COVID-19 response.
The programme has also supported a total of around 37 thousand internally displaced persons and refugees hosted in the region.