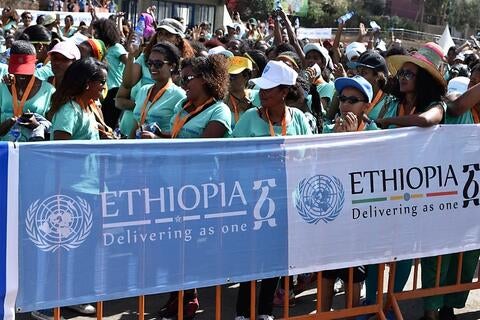 The 13th edition of the Women First Run – the annual 5km all-woman race – was held on 6 March 2016. The race was held under the slogan 'Investing in Girls is investing in the Future'. More than 6 thousand participants crossed the finishing line.
The Women First Run is held with the aim of giving recognition to the achievements of women and appreciate their role in the country's development endeavours. The race forms part of the series of activities in celebration of the International Women's Day on March 8. The race has also become a stepping stone for young, emerging female athletes some of whom have eventually become Olympic or World Champions.  
In addition to the mass and elite athletes' competition the event includes the competitions between icon women and female ambassadors of countries based in Addis Ababa.
The Women First Run 2016 was started by Athlete Meseret Defar, UNFPA National Honorary Goodwill Ambassador in Ethiopia and other invited dignitaries.