The 7th edition of the annual woman 5km race, the Women First Run, was conducted on 13 March 2011. Mamitu Deska won the race smashing the course record registering the fastest time in the events eight-year history at 15.44.
In this race which it supported for the 7th consecutive year, UNFPA promoted the theme "Narrow the Gaps to meet the Goals: Leave No Woman Behind." This theme was chosen as gender equality and women empowerment are critical to the achievement of MDGs and ICPD goals; hence would contribute to the reduction of maternal mortality.Around 9,000 women took part in the race.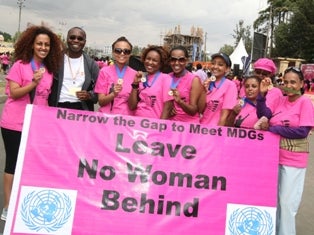 The Women First Run has become an important stepping stone over the past years for young athletes en route towards international honors.
The race was covered live on the national television station, Ethiopian Television, and the race was started by UNFPA Ethiopia Honorary National Goodwill Ambassador, Athlete Meseret Defar, and the renowned athlete Haile Gebrselassie.
The Women First Run event started in 2004.