The 7th edition of the annual event, Women First Run, was conducted on 6 March 2010. Athlete Sule Utura recorded an impressive win in this year's 5 km race breaking last year's course record by more than 13 seconds. Athletes Koreni Jelila and Makida Haruna came in second and third respectively.
In this race which it supported for the 6th consecutive year, UNFPA promoted the theme "No Woman Should Die Giving Life." This theme was chosen in view of the fact that Ethiopia launched last month the Campaign on the Accelerated Reduction of Maternal Mortality in Africa (CARMMA). Around 9,000 women took part in the race.
The Women First Run has become an important stepping stone for young athletes en route towards international honors.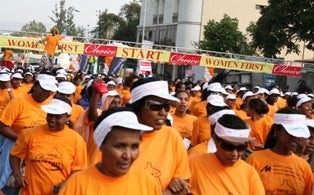 Among the ambassadors' group Danish Ambassador to Ethiopia, Pernille Kardel, came in first with a time of just under 33 minutes.
The race was covered live on the national television station, Ethiopian Television, and the race was started by UNFPA Ethiopia Honorary National Goodwill Ambassador, Athlete Meseret Defar, and the renowned athlete Haile Gebrselassie.
The Women First Run event started in 2004