The Director of the Technical Division (TD) of UNFPA Dr. Werner Haug, paid visits to UNFPA supported projects in Addis Ababa. In his first visit he saw project sites under the program titled "A right based approach to youth and adolescents for SRH and HIV/AIDS Information and Services and Participation in their Development," run by one of UNFPA's implementing partners, Pro-pride.
A total of 10 Youth Dialogue and Integrated Community Conversation Sites have been established this year under the program. Dr. Werner visited the Shewa Berhan Community Development Youth Dialogue Club in the major market place of the metropolis (Mercato). The club has 60 participants drawn from the youth of their locality and they gather every two weeks to hold discussions on issues of SRH and HIV/AIDS.  Dr. Haug also visited another youth dialogue club in the area which involves participation of some older people in the community in addition to the youth. He had a chance to discuss with project officials at length on the implementation of the program and expressed his appreciation.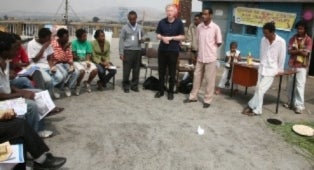 Meanwhile Dr. Haug also visited another UNFPA supported project which focuses on supporting poor, urban adolescent girls at risk of exploitation and abuse in Addis Ababa in the Mercato area. The project is being implemented by the Ministry of Youth and Sports and the Addis Ababa Youth and Sports Bureau. The project targets out-of-school girls aged 10-19, most of whom are migrants, living away from parents and family members, and unlikely to be reached by current programmes.  The program promotes functional literacy, life and livelihood skills, and reproductive heath education by mentors. A total of about 600 girls are enrolling in the program currently. Earlier this year 213 girls who followed the 18 months education have graduated out of whom 50 to 80 have joined formal school.