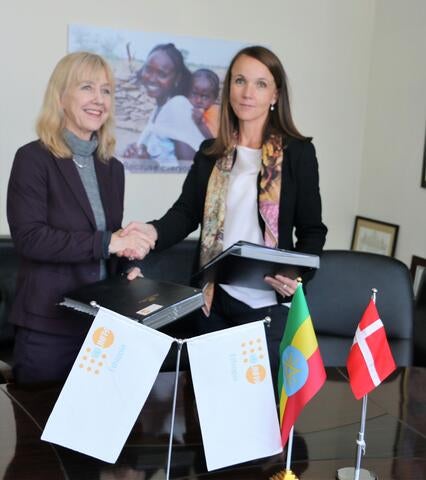 18 December 2017, Addis Ababa – At a ceremony held today, UNFPA, the United Nations Population Fund, signed a co-financing agreement with the Government of Denmark amounting to approximately USD 3.3 million. The funding will go in support of a three-year project on ensuring universal access to Reproductive Health and Rights Services in the Somali Region in Ethiopia. 
Making a statement on the occasion, H.E. Mette Thygesen, Ambassador of the Royal Danish Government to Ethiopia, Djibouti, South Sudan, Sudan and the African Union, said the agreement was an expression of solidarity of Denmark with the people of Ethiopia, particularly in the Somali Region. She went on to say that it will have "an important contribution in creating a nexus between development and humanitarian assistance."
On her part, Bettina Maas, UNFPA Country Representative remarked on the occasion that the agreement signified the close alliance between UNFPA and the Government of Denmark on the very sensitive and relevant issue of reproductive health and rights.
The pilot project will be supported through an innovative partnership between UNFPA and the World Food Programme (WFP) where linkages will be made between humanitarian food distribution and provision of services on Sexual and Reproductive Health and Rights, particularly targeting women and girls affected by drought. This project which promotes a long-term solution to vulnerable populations receiving humanitarian assistance provides information and services on sexual and reproductive health and rights, including family planning, to internally displaced persons in their settlements as well as beneficiaries of the Rural Productive Safety-Net Programme. It also provides direct access to family planning services to the young women and mothers using various mechanisms including the primary health care system.
The project will be implemented in 8 woredas in the Sity and Fafan Zones of the Somali Region which are severely affected by recurrent drought where humanitarian food distribution is being undertaken by WFP for clients embraced by the Rural Productive Safety-Net Programme.
For additional information, please contact:
Abraham Gelaw, Communication Officer, UNFPA; Tel. +251-11-5444079; +251-911-488627; E-mail: gelaw@unfpa.org
Meron Negash, Communication Associate, UNFPA; Tel. +251-11-5444210; E-mail: mnegash@unfpa.org