A one -day consultative workshop on the proposed UNFPA 7th Country Programme Document (CPD) took place today 14 December with Implementing Partners drawn from sectoral bureaus from the federal and regional governments.
Making a remark on the occasion, Ato Admasu Nebede, Director of the UN Agencies and Regional Economic Cooperation Directorate at the Ministry of Finance and Economic Development, said that UNFPA is one of the strategic partners of the Ethiopian government supporting the development efforts in the country fully aligned to the country's development strategy.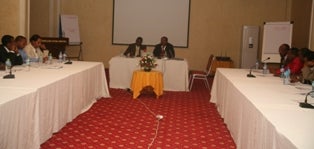 On his past Mr. Benoit Kalasa, UNFPA Country Representative, noted that "the 7th CPD is positioned at a key milestone where the Government of Ethiopia has just completed the formulation of the three-year Growth and Transformation Plan and at a time when the United Nations in Ethiopia is completing the design of the United Nations Development Assistance Framework (UNDAF)."
The proposed 7th CPD derives from the national priorities identified in the Ethiopian Government's new development strategy, the Growth and Transformation Plan (GTP), and within the framework of the UNDAF. The programme areas in the proposed CPD follow from the three UNDAF pillars - Basic Social Services Pillar; Governance and Capacity Development; and Women, Youth and Children.
The participants of the workshop were drawn from the Ministry of Finance and Economic Development, Ministry of Health, Central Statistical Agency, HIV Prevention and Control Office, and Ministry of Women, Youth and Children and regional bureaus as well as UNFPA staff.