UNFPA launched its flagship report, the State of World Population, today.  The State of World Population 2012 was launched by the State Minister of Finance and Economic Development, Dr. Abraham Tekeste.  The theme for State of World Population 2012 is 'By Choice, Not by Chance: Family Planning, Human Rights and Development.'
The report highlights that in the developing world, an estimated 222 million women who want to delay or avoid their next pregnancy cannot exercise this right as they lack modern contraceptives, resulting in unintended pregnancies, unsafe abortions and more than 100 thousand maternal deaths.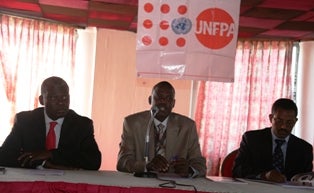 The State of World Population 2012 reflects that family planning need to be a matter of choice, not chance, and providing for the unmet need for family planning requires not only tearing down the barriers that women and adolescents face in their homes and communities, but also expanding the availability of quality information, supplies and services. The report indicates that from a national perspective, universal access to family planning is a critical component for development and the expected returns and other benefits are much larger.
A contemporary art performance was presented and an art exhibition was also held at the launching event.