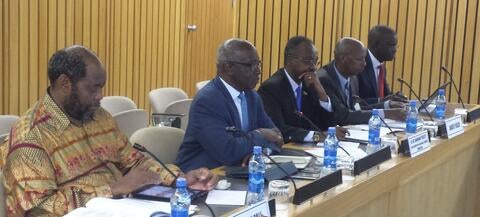 A three-day international meeting on digital data capture for the 2020 Round of Population and Housing Censuses is underway in Ethiopia between 15 and 17 February.  The meeting is believed to provide a forum for sharing knowledge and experience on ICT-enabled census data capture, transfer, processing, dissemination and management. 
Making a remark at the opening of meeting, Dr. Abraham Tekeste, Deputy Commissioner of the National Planning Commission of Ethiopia, noted "The Ethiopian Government appreciates that the full adoption of modern technology in the in the entire population and housing census process is a huge national and continental responsibility." He went on to state that the Ethiopian government was keen to support institutional capacity building at the Central Statistical Agency to leverage ICT to improve overall quality and timeliness of data generation.
"The increasing data demands in new and emerging areas demand revolutionizing data capture, transfer, processing and management methodologies to improve coverage and completeness, accuracy and timeliness. This is consistent with the UN Secretary General's Data Revolution and Data for Development tenets to support implementation of the Sustainable Development Goals," said Mr. Faustin Yao, UNFPA Country Representative.  He added that sound strategies must be put in place to effectively leverage ICT in census implementation.
The United Nations approved in March 2015 the initiation of the 2020 World Programme on Population and Housing Censuses, to be implemented from 2015 to 2024 giving particular attention to advance planning, use of modern technology, cost efficiency, coverage and the timely dissemination of, and easy access to census results. Exploring the use of modern technology in census implementation becomes even more critical in African countries where infrastructural challenges abound.
Census data worldwide provides comprehensive evidence base for effective implementation of national and global development policies and programmes.  The data primarily provides many of the indicators used to formulate and monitor targets stipulated in national, continental and international development plans and goals.  
This meeting is seen as the commencement of a structured response to this need, and will provide strategic direction for the African region as it prepares to implement the 2020 Round of population and housing censuses.
It is hoped that the outcome of this meeting will be used for evidence-based advocacy and policy dialogue among key decisions makers in Ethiopia in particular, and all African countries.
The Central Statistical Agency of Ethiopia and UNFPA, the United Nations Population Fund, jointly organized the meeting in which participants from 13 Africa Countries, Brazil and India are taking part.