UNFPA today commemorated the first World Humanitarian Day with other members of the UN family.  The commemoration took place at the Africa Hall in the UN Economic Commission for Africa. The State Minister for Disaster Risk Management and Food Security Sector, Dr. Aberra Deressa; and the Humanitarian Coordinator a.i. for Ethiopia, Mr. Ted Chaiban, delivered statements conveying messages that highlighted the formidable challenges faced by humanitarian workers.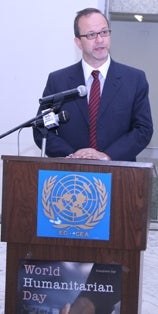 The 19th of August was designated as World Humanitarian Day by the United Nations General Assembly in December 2008, making the 2009 commemoration the inaugural event.  The World Humanitarian Day is observed with the purpose of globally recognizing the importance of humanitarian work and to honor the sacrifice of those who lost their lives or got injured in the course of their work. The day is also intended to increase public awareness of humanitarian assistance needs and response in countries around the world.
Six years ago, on 19 August 2009, the bombing of the United Nations Office in Iraq took the lives of 22 dedicated humanitarians, including Sergio Vieira de Mello, the United Nations High Commissioner for Human Rights and Special Representative of the Secretary-General in Iraq. The date of 19 August has, therefore, been chosen to commemorate the sacrifices made by the humanitarian workers, too many of whom have lost their lives or been injured the world over.
A short film incorporating the UN Secretary- General's message on World Humanitarian Day was shown at the event and a minute of silence was also observed in remembrance of humanitarian workers who sacrificed their lives in line of duty.