A twelve-day training workshop on Cisco Data Center and Wide Area Network management organized for staff of the Central Statistical Agency (CSA) was concluded today. The training which took place here in Addis was jointly organized by UNFPA and the African Center for Statistics with funding from the UK Department for International Development (DfID). Eight CSA IT staff who will be responsible for managing the CSA data center during the different stages of the census and even after the census took part in the training.
Closing the training, Bettina Maas, UNFPA Country Representative, said all eyes are on Ethiopia as it is preparing to conduct the biggest digital census in Africa. She further said that she had been in the Afar Regional State last month to witness a pilot census where she observed enumerators collecting data using tablets and sending their data to the data center.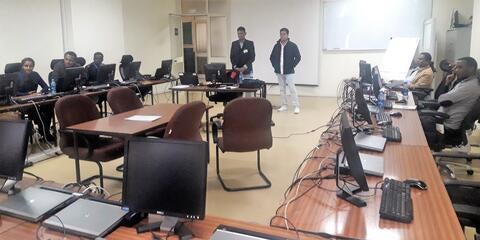 She underlined the importance of having effective data transfer from the enumerators at the grassroots level to the data center. She thanked DfID for funding the training and Techno Brain for successfully conducting it. She expressed her belief that the trainees would practically apply the knowledge they acquired from the intensive training and also share it with their colleagues.
On his part Collins Opiyo, UNFPA Chief Census Technical Adviser, said that every activity done on human welfare and development depend on data, indicating that census is the largest source of data. Opiyo noted that the training is very important in the grand scheme of census implementation as everything passes through the data center that is going to be managed by the trainees.  
The trainees were given certificates upon completion of the training.