ADDIS ABABA, Ethiopia—If the demographic dividend is to be harnessed, then the fundamental civil, political and socioeconomic rights of young people, including young women, must be protected and respected. This was stressed by UNFPA Deputy Executive Director and UN Assistant Secretary-General, Dereje Wordofa, at the continental launch of UNFPA's flagship report, State of World Population 2018, in partnership with the African Union on 17 October.
Ensuring these rights, and enabling youth and women to make informed choices, will contribute to achieving the Sustainable Development Goals and Agenda 2063.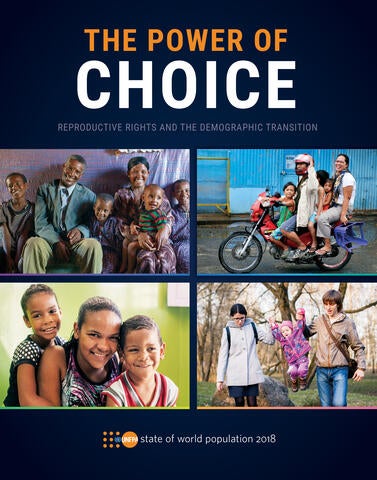 "Ensuring these rights, and enabling youth and women to make informed choices, will undoubtedly contribute to achieving the 2030 Sustainable Development Goals and Agenda 2063," he said.
The report, themed: "The Power of Choice: Reproductive Rights and The Demographic Transition," calls for countries to enhance sexual and reproductive health and rights and choices, to better manage the demographic transition. It emphasizes that the resulting change in population age structure can help countries realize a demographic dividend, bolstering economic and social development.  
The power to choose the number, timing and spacing of children can bolster economic and social development. The global trend towards smaller families is a reflection of people making reproductive choices to have as few or as many children as they want, when they want, it reads.
Family size is closely linked with reproductive rights which, in turn, are tied to many other rights, including the right to adequate health, education and jobs. Where people can exercise their rights, they tend to thrive. Where these rights are stifled, people often fail to achieve their full potential, which impedes economic and social progress.
The demographic transition, particularly the fertility decline, has been much slower on the African continent compared to other less-developed regions. The report emphasizes the need for increased and targeted investments in education and health, including sexual and reproductive health.
Deputy Chairperson of the African Union Commission, Ambassador Kwesi Quartey, said the report complements the African Union's focus on harnessing the demographic dividend. SWOP 2018 will influence decision making and inform responsive development policies and strategies, particularly on issues of health and the well-being of people, migration, urbanization, employment and entrepreneurship, education and skills development, governance and youth empowerment.
Ethiopia's Growth and Transformation Plan mainstreams population issues and emphasizes the need to improve access to family planning, as well as create a conducive environment for the fast growing working age population to actively participate in the country's development process. This was stated by Minister Ato Getachew Adem, Deputy Commissioner of the National Planning Commission.
He stressed that addressing population issues in a sustainable manner and seizing the demographic dividend calls for a joint and collaborative effort by all actors and  different sectors, including through the generation of evidence-based information for advocacy and policy dialogue on population and development matters, and the revision of national policies, strategies and programmes in the country.
Reproductive health and rights have improved substantially around the world since the 1994 International Conference on Population and Development, according to the SWOP report. People have more information about their reproductive rights and choices, and greater capacity to claim their rights. "The historic transition to lower fertility has emerged through people claiming their right to make choices about their reproductive lives, and to have as few, or as many, children as they want, when they want," it reads.
Yet, most couples cannot have the number of children they want because they lack either economic and social support to achieve their preferred family size, or the means to control their fertility. The unmet need for modern contraception prevents hundreds of millions of women from choosing smaller families, the report highlights.
- Abraham Gelaw