The Economic and Social Women Empowerment and Protection of Women and Girls from Harmful Traditional Practices Project was officially closed today in the presence of partners and stakeholders. The 16 months project financed by the Italian Agency for Development Cooperation was implemented in 9 localities in the Hadiya and Wolayta Zones of the Southern Nations, Nationalities and Peoples Region (SNNPR). UNFPA oversaw the coordination and implementation of the project through the SNNPR Bureau of Women, Children and Youth Affairs and two civil society organizations – KMG-Ethiopia and Mary Joy Development Association. 
Speaking at the one-day workshop, Atsede Ayza, Deputy Head of the SNNPR Bureau of Women, Children and Youth Affairs, lauded the achievements of the project saying that it played an important role in empowering vulnerable and most disadvantaged women. She noted that her Bureau was closely involved in coordinating the project for the desired objective to be met recommending for its scaling-up so that more women could benefit. 
On his part, Mr. Marco Guena, Programme Coordinator with the Italian Agency for Development Cooperation Addis Ababa Office indicated that his government's contribution on initiatives at empowering and protecting the rights of women has been constantly growing over the years. "This will continue to be a key focus area in the new Country Programme for 2019-2021," he added.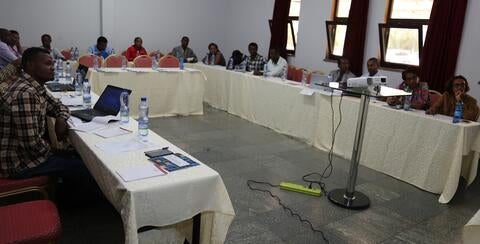 The project implemented strategic activities on economic and social empowerment of most vulnerable female headed households; school level interventions to empower girls; and community mobilization and awareness creation on harmful practices and sexual and reproductive health. 
"Women's and girls' empowerment forms part of the effort at promoting gender equality and human rights which in turn forms the basis for achieving sustainable development and bringing positive change in peoples' lives," said Dr. Awoke Tassew, Assistant Representative of UNFPA speaking at the event.  He went on to say that the approach the project applied in integrating women's social and economic empowerment with social mobilization, coupled with strong linkages with grassroots structures, formed a solid ground for sustainability of the positive changes being sought.
The project is believed to have raised community awareness to generate actions in protecting the rights of women and girls and promoting less tolerance and more reporting of harmful practices. It also registered results in promoting better acceptance of women as entrepreneurs and leaders.    
The event provided an occasion for partners and stakeholders to make recommendations on addressing the challenges encountered in the implementation of the project and sustaining the gains made.