The International Day of Disaster Reduction (IDDR) was observed today at a national conference under the theme "Women and Girls - the (in) Visible force of Resilience".
The conference which was held here in Addis was organized by the Disaster Risk Management and Food Security Sector with the Ministry of Agriculture, supported by UN Agencies, international NGOs, development partners, and donors.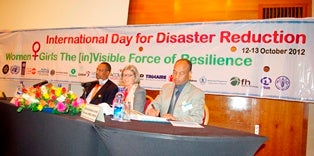 Opening the conference, the State Minister of Agriculture, Ato Mitiku Kassa, said "gender inequality is a major factor in eroding community resilience. We need to break this barrier by educating more women and girls - including men and boys - so that they can participate and contribute more in the disaster reduction and management cycle." Appreciating the Ethiopian Government's strategy of pursuing sustainable economic development through a climate resilient and green economy agenda, Ms. Alessandra Tissot, Country Director of the UN Development Programme, noted that "women are more inclined than men to choose sustainability and resilience as a lifestyle and engage in environmentally appropriate behavior, and make sustainable consumption choices."
The theme of the IDDR chosen for this year aimed at drawing attention to the fact that women's efforts to protect and rebuild their communities before and after disasters are often unrecognized.  It was highlighted that the ability of women to contribute to disaster reduction is hindered by lack of inclusion and poor understanding of gender inequality.
The celebration hoped to help people move beyond the tendency to view and portray women and girls as victims.  The national conference featured presentations and stories on action and initiative by women and girls and shed light on the obstacles that prevent them from participating in disaster risk reduction and climate change adaptation.
Meanwhile, an exhibition was held at the venue of the conference showcasing the different knowledge management products, communication materials, and information on disaster reduction and management and disaster risk reduction produced by different organizations and stakeholders.
An estimated number of 250 participants representing a wide range of disaster reduction and management stakeholders attended the conference.