The National Coalition of Women Against AIDS (NCWH) in collaboration with UNFPA, the United Nations Population Fund, organized a half-day high level advocacy meeting today on stopping early marriage.
The advocacy meeting was organized with the intention of looking at the achievements of the NCWH in its interventions on stopping early marriage over the last three years and discussing on what could be done to address this harmful practice in a more effective and coordinated manner at national level. UNFPA has been providing support to the NCWH to implement the "Stopping Early Marriage" initiative in the Amhara, Benishangul-Gumuz and Tigray Regional States.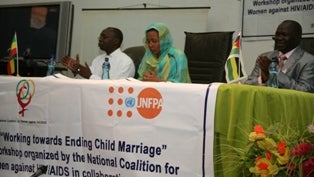 Making a remark on the event Woizero Azeb Mesfin, First Lady of Ethiopia and Board Chairperson of NCWH noted "thanks to the initiative the more than three thousand child marriages have been cancelled in the three regions." She added that more than 200 women who suffered fistula as a consequence of early marriage have received treatment.
In his statement on the occasion Mr. Benoit Kalasa, UNFPA Country Representative, said "UNFPA considers Child Marriage as a direct violation of rights with negative consequences on adolescent girls' reproductive health, including maternal deaths, fistula, HIV/AIDS and other psycho-social problems." He went on to say that rural-urban migration and vulnerability to poverty, physical and sexual abuse were also a recognized consequence of early marriage.
Various studies show that child marriage is highly prevalent in these three regions compared to others in the country. This harmful practice is gravely affecting adolescent girls' reproductive health situation, leading to such complications as fistula and HIV/AIDS as well as exposing them to psycho-social problems resulting in a number of cases in maternal deaths. Rural-urban migration and susceptibility to poverty, physical and sexual abuse have also been established as consequences of child marriage.
The Stop Early Marriage initiative as a collaborative effort between the NCWH and UNFPA has sought to address the issue of child marriage in the three regions in an integrated and holistic manner which is bearing an early success. Nevertheless, the magnitude of the problem calls for intensified and more coordinated efforts by the government and other development partners. The advocacy meeting called upon all development partners represented at the event to prioritize the issue as one of their agenda item and provide the required financial and technical support to address the challenge.
The high level advocacy meeting was attended by H.E. Woizero Azeb Mesfin- First Lady of FDRE and Board chairperson of NCWH - Members of the House of Peoples' Representatives, officials from the aforementioned three regions, members of the diplomatic corps, representatives from UN Agencies and the African Union Commission and other partners working on stopping early marriage.