The first batch of mid-level health professionals being trained in the three-year MSc Programme in Integrated Emergency Surgery and Obstetrics (IESO) graduated on 18 February at a ceremony held at Ayder Hospital in Tigray Region.
The Minister of Health, H.E. Dr. Tedros Adhanom, handed-over credentials to the graduates. A total of 16 health professionals graduated in the programme, which is the first of its kind in the country.
Dr. Tedros remarked on the occasion that the graduates will have an instrumental role to play saying "we are all looking to you to be a window of hope to reduce the unnecessary death of mothers and newborns during pregnancy and delivery in rural Ethiopia." He indicated that one such trained professional will be deployed in each district. The Minister noted that the country will be producing between 800 and 1,000 such professionals in the coming years to meet this target. Thirty-seven sites have been identified by the Ministry of Health for the deployment of the graduates using data obtained from the EmONC survey conducted in 2009.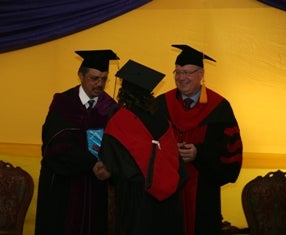 The MSc Programme which was launched in April 2009 by the Federal Ministries of Health and Education with the support of UNFPA, United Nations Population Fund, is being undertaken in five universities - Gondar, Hawassa, Haromaya, Jimma, and Mekele Universities. The programme, which is part of the national and sectoral strategies putting maternal health as a top priority, involves Task Shifting from Physician to Non-Physician Clinicians to address the huge shortage and inequality in access to Comprehensive Emergency Obstetrics and Neonatal Care services between rural/urban areas and rich/poor. UNFPA has been contributing financial, technical, and material support for the implementation of the the programme to the tune of close to 2 million US Dollars.
Though successive efforts have been exerted by Ethiopia in terms of reducing maternal mortality over the past decade, there is still a huge challenge ahead. A survey conducted in 2009 shows that only 51 per cent of hospitals provided comprehensive emergency obstetric and neonatal care, while 14 per cent of health centers provided basic emergency obstetric and neonatal care. Moreover, only 10 per cent of women have access to a skilled birth attendant.
Task-shifting in emergency obstetrics and surgery to mid-level professionals was found to be effective in reducing maternal mortality. The trainees of the programme in IESO have demonstrated high efficiency in the course of their training, and teaming them up with midwives and anesthetists has proven to be productive. The three-year training has equipped the non-physician clinicians the necessary skills and competencies to provide comprehensive Emergency Obstetric and Neonatal Care (EmONC), including emergency obstetric surgery.
Currently, more than 50 percent of African countries have programmes that train non-physicians in integrated emergency surgery and obstetrics. The experiences in four African countries with such programmes - Mozambique, Malawi, Tanzania, and Zambia - shows that the retention rate of these mid-level professionals has been much better than rates for Obstetricians, Gynecologists or General Practitioners. Moreover, the cost of training, deployment, and remuneration of these professionals was much lower compared with the cost of training physicians.
Twenty-five non-physician clinicians will graduate in the coming few months from Jimma and Hawassa Universities together. A total of 282 students are currently enrolling in the MSc programme in IESO in the five universities. The programme is slated to be scaled-up in five other universities soon.