The Executive Director of UNFPA, Dr. Babatunde Osotimehin, took part in the High Level Panel Discussion on Health Financing in Africa today. The panel discussion was held under the theme "More Health for Money and More Money for Health."
The Executive Director noted that primary health care should be made the focus of attention in the continent and that earnest efforts need to be exerted to provide integrated health interventions which could save hundreds of millions to the health system. Noting that Africa contributes to  close to 75 percent of the maternal mortality in the world the Executive Director highlighted that "introducing effective family planning and meeting the needs of people can cut the cost of providing health by around 2.5 billion dollars in Africa." He went on to say that provision of antenatal care and immunization are other key interventions that could cut considerable costs to the health system in the continent.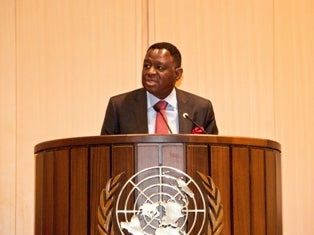 Referring to the recommended per capita spending on health, the Executive Director urged during the panel that countries in Africa ought to strive to allot about 30 dollars.  The Executive Director also underscored that the heath sector should be accountable and transparent in the allocation and utilization of resources and that mobilization of Parliamentarians is key to identify and address the priorities areas in Africa in the health sector.
African Heads of State and Government made financial commitment in 2001 in Abuja towards meeting the Millennium Development Goals (MDGs) by pledging to allocate at least 15 percent of their national budgets to health.  With few exceptions most pledges by African governments on health remain largely unmet as only six out of fifty-three African States have achieved the Abuja commitments on health financing.
The Executive Director was joined during the panel discussion by key African Ministers of Health and Finance as well as the AU Commissioner for Social Affairs. The panel brought together ministers of health and ministers of finance.   The High Level Panel Discussion on Health Financing formed part of the 4th Joint Annual Meetings of the AU Conference of Ministers of Economy and Finance and the ECA Conference of African Ministers of Finance, Planning, and Economic Development which was opened today. Making remarks at the opening ceremony the Executive Director noted that "Africa is a youthful continent and if it is to use their potential effectively we need to ensure that they are free of disease, HIV/AIDS, maternal mortality and the like and reduce it to absolute minimum." He added that special emphasis need to be given in Africa to use the potential of its girls and women effectively and that UNFPA is ready to work with governments and other partners to make this a reality.