The UNFPA Country Representative, Bettina Maas, witnessed an actual pilot census being conducted in the Afar Region.  The pilot census which is taking place between 18 and 28 June is being conducted for the third time in preparation for the upcoming 4th Population and Housing Census of Ethiopia scheduled for later this year.    
The Representative was able to witness the pilot census in two localities near the Aysaita Town, capital of Zone One of the Afar Regional State. Currently the pilot census is being conducted in three zones of the Regional State using state of the art technology. The Representative interacted with enumerators, supervisors, and members of households participating in the pilot census.
During a discussion with him, Mr. Mohammed Hussien Ali, Head of the Office of the Chief Administrator of the Afar Regional State, mentioned to the UNFPA Country Representative that he hoped the digital census would address the problem of undercounting witnessed in previous censuses in his Region which is predominantly pastoralist. Mrs. Bettina indicated that census is a very challenging and massive undertaking adding that the digital census which is the first of its kind in Ethiopia would enable improved and efficient data capturing.
Meanwhile, as part of her 3 day official visit to the Afar Regional State between 20 and 22 June, the UNFPA Country Representative was able to discuss with partner sectoral bureaus at the meeting convened by the Bureau of Finance and Economic Development. Sectoral bureaus of the region partnering with UNFPA – the Bureaus of Health, Youth and Sports, Women and Children Affairs, and the Regional HIV/AIDS Prevention and Control Office – made presentations on activities being supported by UNFPA, progresses made and challenges encountered.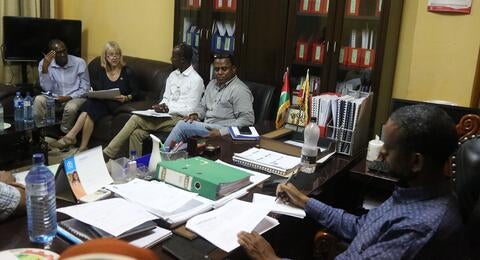 A number of issues related to coordination were also raised by the Bureau of Finance and Economic Development and discussed. A call was made on UNFPA to step up its support in realizing the targets set in the strategic pillars of the Regional State's Growth and Transformation Plan that are relevant to its mandate.  
The UNFPA Country Representative held a meeting with representatives of the sub-offices of WFP, UNOCHA, IOM, and UNICEF on inter-agency collaboration on development and emergency response interventions in the Region. The discussion revealed a number of areas of collaboration where UNFPA could address development and humanitarian challenges in partnership with the other UN agencies.
Mrs. Bettina was also able to visit sites of different interventions supported by UNFPA where she was briefed on the activities and discussions were held on strengthening collaboration and support.