The Africa Region Director of UNFPA, Mr. Bunmi Makinwa, met and discussed with the State Minister of Finance and Economic Development, Dr. Abraham Tekeste, today on various issues of cooperation between the Ethiopian Government and UNFPA.
Mr. Bunmi Makinwa is in Ethiopia on his first official visit to the country and was accompanied by the Director of the UNFPA Division of Management Services, Mr. Subhash Gupta in his deliberations with officials.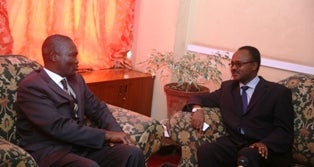 "The Ethiopian Government is in the process of endorsing the Growth and Transformation Plan which will be guiding its development endeavours in the coming five years," noted Dr. Abraham. He went on to say that the government is keen to maintain the good cooperation it has with the United Nations Population Fund and build on the achievements of the past years.
On his part the Mr. Bunmi Makinwa said that the United Nations Population Fund will continue to be a strong partner with the Ethiopian government with the latter's guidance, ownership, and partnership.
On the discussion held between the State Minister and the Director, issues including the implementation of the UNFPA supported programme in Ethiopia, challenges encountered, and mechanisms to address the challenges were raised and deliberated upon.
During his official visit between 1 and 6 December 2010, Mr. Bunmi Makinwa will be meeting with other senior officials of the Federal Government and the Amhara and Oromia Regional States to discuss on issues of cooperation between UNFPA and the government. He will also be visiting programme interventions carried out by the Oromia and Amhara Regional Governments with the support of UNFPA.