SEMERA, Afar - "The methodology of the training was very unique with many practical roleplays to better understand our work for survivors of sexual violence and intimate partner violence. Personally, I now understood better how to examine a survivor and collect evidence during Clinical Management of Rape" says Dr. Asnakey Amshalu from Gondar University Hospital after attending UNFPA's Clinical Management of Rape Training on September 2022 in North Gondar, Amhara Region.
Doctor Asnakey is one of the 203 frontline health care and GBV professionals who participated in a cascade of 4 training by UNFPA Ethiopia in GBV Case Management, Clinical Mangement of Rape (CMR), Psychosocial Support (PSS), and GBV Minimum Standards applied to humanitarian response during the months of September and October 2022. 
The training series is part of an effort to scale up and improve the technical capacity of healthcare professionals and gender-based violence managers to provide quality and compassionate care to survivors across conflict-affected areas in northern Ethiopia. A total of 203 professionals from more than 20 regional health bureaus, hospitals, and international and national NGOs were trained at the end of the series in Afar and Amhara regions. These are health coordinators, medical doctors, clinical officers, health extension workers, nurses, and GBV specialists working in the northern Ethiopia emergency.
As part of UNFPA's leadership and commitment to addressing sexual exploitation and abuse, the training series additionally included sessions on Prevention of Sexual Exploitation and Abuse (PSEA) aiming to better equip healthcare workers to support efforts to mitigate and address sexual exploitation and abuse in humanitarian settings. The training series aimed to build fundamental skills, provide guidance, and improve the overall availability and quality of recommended inter-agency protocols for treating survivors of sexual and intimate partner violence.
Doctor Getachu B., Medical Director at Dubti Hospital and a participant in  the GBV Case Management training from 10 to 14 October in Semera, Afar, said, "I learned how to do a safety assessment and it was the first time I heard about the safety and ethical data collection and storage system. My practice and monitoring of GBV services will be strengthened from now on thanks to the training".
He further underscored the importance of building the capacity of health workers to expand GBV minimum standard services and to ensure the short and long-term recovery of affected individuals and communities.
While gender inequalities and GBV are common in non-emergency settings, conflict, displacement and natural disasters can exacerbate GBV due to a breakdown in social systems, lack of law enforcement, and limited access to health facilities. In conflict-affected regions of Northern Ethiopia, sexual violence was widely reported (OHCHR), with women and girls bearing the burden of this crisis disproportionally. Violence results in tremendous short and long-term consequences on women's physical, sexual and, reproductive, and mental health as well as their personal and social wellbeing. Survivors of GBV have the right to receive quality, compassionate care and comprehensive support that addresses the harmful consequences of violence in order to help them heal and recover.
UNFPA Ethiopia Representative a.i., Ms. Suzanne Mandong, noted that the training series reflect the commitment by UNFPA to expand access to appropriate, accessible, and quality services for GBV survivors across the country.
"It's critical to scale up the capacity of healthcare professionals and GBV workers to deliver high-quality clinical, mental, and psychological support and care to GBV survivors while building back the capacity of the public health system. This will always be a central part of our humanitarian response in Ethiopia".
The Training series in GBV Case Management, GBV Minimum Standards, Clinical Management of Rape and Psychosocial support to survivors was conducted in collaboration with the GBV Area of Responsibility (GBV AoR) and supported by the Irish Development and Cooperation Agency - Irish Aid.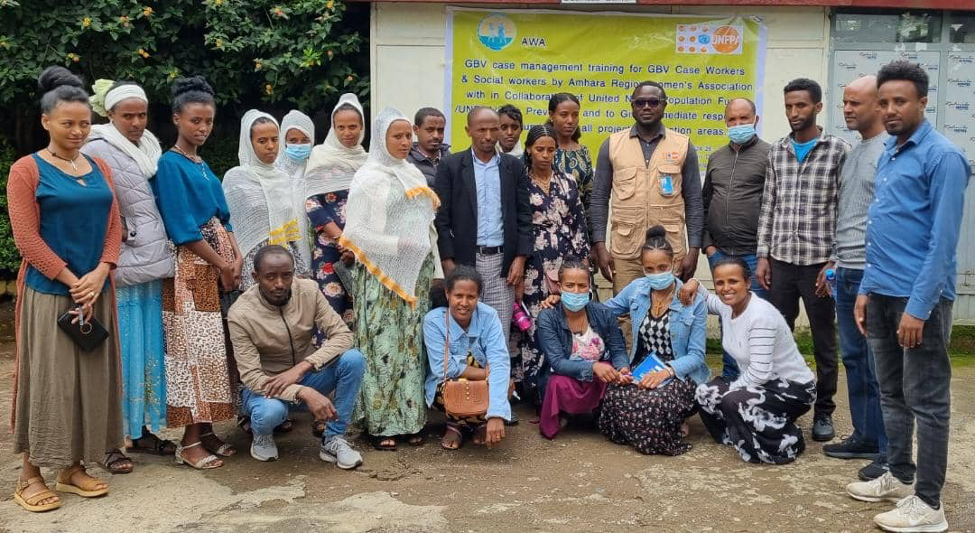 For more information: