Members of the Finance and Budget Standing Committee of the House of Peoples' Representatives appreciated Central Statistical Agency's preparation for the Fourth Ethiopia Population and Housing Census that is expected to be conducted in 2018. The members expressed their appreciation when they visited the Central Statistical Agency (CSA) on January 17, 2018.
The Members of Parliament (MPs) visited all the activities of CSA giving more attention to CSA's preparation for the upcoming Population and Housing Census. The MPs saw the 180,000 tablets and the 126,000 power banks purchased for the census stored at the agency. They also visited new office buildings constructed by Statistics for Result (SFC), a project funded by the World Bank, and other buildings which are under construction. They also appreciated the office facilities availed for the CSA staff.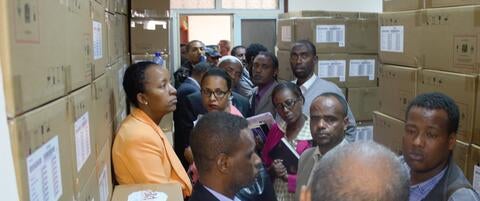 During their discussion with the Director-General and Directors of the 22 Directorates of CSA, they were also informed that the census cartography work has been completed. Training of trainers was also given to 1,600 CSA staff drawn from the agency's 25 branch offices across Ethiopia and some more selected people from Afar and Somali Regions. Further trainings will be given to enumerators and enumerator supervisors. Vehicles have also been readied for the enumeration work. CSA currently has 2,599 staff working in its 25 branches located in different parts of the country most of whom will be actively engaged in the census.
The MPs on the occasion said that they were happy and satisfied to see that the upcoming Population and Housing Census was to be supported by tablet technology and better cartography work for the technology increases the quality the enumeration work. They generally appreciated the preparations made so far by the CSA to conduct the upcoming Census.
UNFPA is the lead UN Agency partnering with CSA on the Census and it has placed at the agency a Chief Census Advisor, a Cartographer and a Communication Expert to ensure the success of the Census. It has also hired several consultants to build the capacity of the CSA staff.