The Female Students' Resource Centre established by the African AIDS Initiative International (AAII) at the Addis Ababa University was inaugurated today. The centre consisting of a computer pool of 50 computers with internet connection and a reading room was set up with financial and technical assistance of UNFPA.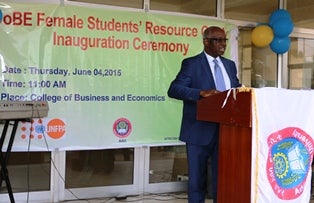 Dr. Admasu Tsegaye, President of the Addis Ababa University, said in his remarks during the event that the centre will be important in upgrading the capacity of the university and is instrumental in fulfilling the information needs of students.
Mr. Faustin Yao, UNFPA Country Representative, highlighted that improving access of students to context specific and gender sensitive RH information and services was critical to enable them to overcome the challenges related particularly to HIV/AIDS and Sexual and Reproductive Health issues. "The establishment of this resource centre is reflective of the fact that female students are at a disadvantage and are facing quite a number of challenges related to SRH and the associated gender based violence. These challenges justify the decision to set up this centre to increase their access to information and related services to empower them," he indicated.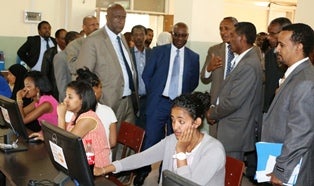 The Female Students' Resource Centre is part of the HIV/AIDS Prevention and Reproductive Health Information and Service for Communities of Higher Institutions project run by the AAII in collaboration with the Addis Ababa University. The centre is expected to benefit around 1500 female students.
UNFPA is supporting the Female Students' Resource Centre through the resources of the UNFPA-UNICEF Joint Programme on the Right-Based Approach to Adolescent and Youth Development funded by the Norwegian Government, which is in its second phase of implementation spanning 2014 to 2017.
The Joint Programme is supporting interventions on adolescents and young people in 30 selected districts, 16 higher education institutions and 100 secondary high schools in Amhara, Oromia, Southern Nations, Nationalities and Peoples, Afar & Tigray Regions, as well as Addis Ababa City Administration. The interventions aim at enhancing adolescent and young people's capacity, making it possible for them to claim their rights and access an integrated package of youth-friendly services.