A delegation composed of officials of the Ministry of Health and staff from the UNFPA Country Office in Niger visited Ethiopia on a study tour between 20th and 23rd July to explore the human resource for health strategy, with a particular interest on task-shifting. Niger is currently developing a 20-year health policy and development plan.
They delegation headed to and met officials of the Health Bureau of the Southern Nations, Nationalities and Peoples' Region (SNNPR) who provided them with an overall picture of the three-tier health system and its human resource.  The members of the delegation appreciated the close coordination between the Health Post - the lowest tier in the health system - to the specialized hospitals supported by massive community mobilization.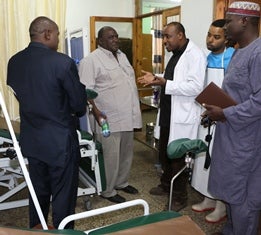 The paid a visit to the Hawassa General Hospital in the Region's capital to learn about task-shifting on emergency obstetrics and surgery. Professor Yifru Berhan, Head of the 3 years graduate program on Integrated Emergency Surgery and Obstetrics at the Hawassa University, informed the delegation that about 250 mid-level professional who completed the program have been deployed at rural hospitals. According to him, the majority of emergency obstetric and other surgeries are now being performed by non-physician clinicians at primary hospitals entailing remarkable decrease in maternal death and referral.
The delegation also visited a Health Post and a Health Center in the Agena District in the Guraghe Zone of the Region where they had discussion on the function of the two institutions and the referral linkage. The delegation was also briefed on the massive community mobilization efforts that are being undertaken to support the health system at the community level.
Dr. Abache Rano, Head of the delegation, applauded the achievements in the health system in Ethiopia which he attributed to "strong government leadership, political commitment, effective community mobilization and partner support."
The study tour was organized by the Federal Ministry of Health, the Bureau of Health of SNNPR, and UNFPA.