UNFPA handed-over surgical equipment to the Assosa General Hospital for use in uterine prolapse treatment at a ceremony organized on October 19th. The equipment is composed of an operating table, operating light, gowns, gloves, and OR shoes. The equipment was procured with funds made available by the Royal Netherlands Government.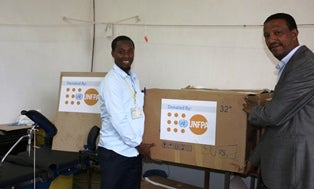 Speaking on the occasion, Ato Mohammed Musa, CEO of the Assosa General Hospital, appreciated the support noting that the equipment will be very critical in filling the gaps the hospital has been facing in treating the conditions of pregnant women with complications.  Ato Berhanu Legesse, Assistant Representative of the UNFPA Country Office, said on his part that UNFPA is mainly concerned with improving the lives of mothers and newborns and commended the efforts the Benishangul-gumuz Regional State and the hospital are exerting in this regard.
UNFPA, together with the Ethiopian Society of Obstetricians and Gynecologists (ESOG), undertook three rounds of uterine prolapse treatment campaigns at the Assossa General Hospital in the last three years. More than 700 women have received the treatment.  In addition to the treatment for uterine prolapse, the team of medical professionals also provided cervical cancer screening close to 400 women during the campaign.  The campaign was coordinated by the Regional Government, the Regional Health Bureau, the Regional Chapter of the National Coalition of Women against HIV/AIDS, UNFPA, and Mujejego Loka Women Development Association (a local NGO which UNFPA is partnering with through the Violence Against Women Programme being supported by the Royal Netherlands Embassy).
Representatives of the Office of the President of the Benishangul-Gumuz Regional State, the Regional Bureau of Health, UNFPA, Mujejego Loka Women Development Association and the National Coalition of Women Against HIV/AIDS, were present at the handover ceremony.