A panel was organized at a National Youth Development Forum to dwell on contributions of development partners in investing on youth development. The forum which was held in Addis Ababa between 21 and 22 January was conducted under the theme "Integrated Multi-sectoral Response for Sustainable Youth Development."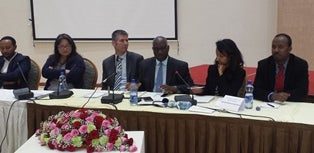 Speaking at the panel Mr. Faustin Yao, UNFPA Country Representative, said that UNFPA is closely working with partners in increasing access to adolescent and young people on sexual and reproductive health information and services. Through the intervention on comprehensive sexuality education the Fund is enabling young people to discuss freely, he noted. He added that UNFPA is also working with influential partners such as the Ethiopian Orthodox Church and the Islamic Supreme Council of Ethiopia for a wider reach to the youth. The interventions on changing social norms to promote girls and women's rights are paying dividends in this regard, he indicated.
Mr. Yao went on to say that in addition to the development interventions, UNFPA is catering to the needs of young people in humanitarian settings.  The Fund is also working with partners like the Central Statistical Agency in the generation and analysis of data on youth for evidence.
It was sated during the panel that there was a need for a focused approach within the multi-sectoral response to address the needs of the youth which is diverse.  It was mentioned that it was important to strengthen existing multi-sectoral platforms to address the needs of the youth.
Representatives from the World Bank, DfID, USAID, and Civil Service Organizations also took part in the panel discussion. The two-day national consultation forum was opened by the President of Ethiopia, Ato Mulatu Teshome, and was attended by high level dignitaries and various stakeholders working on the youth.