The National Girls' Summit was held in Addis Ababa today to deliberate on ending the harmful practices of child marriage and female genital mutilation.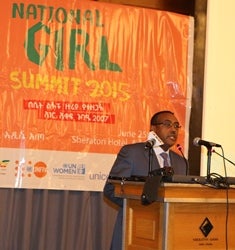 The high level meeting was organized with the purpose of reaffirming the commitment Ethiopia made to eliminate the two harmful practices by 2025 and charting the way ahead.
In an opening statement made on the occasion, H.E. Ato Demeke Mekonnen, Deputy Prime Minister of Ethiopia, reiterated the country's commitment to end child marriage and FGM in accordance with the pledge made at the London Summit. "We need to work together closely engaging communities to end these harmful practices," he remarked. The Minister of Women, Children and Youth Affairs, H.E. Woizero Zenebu Tadesse, also called on all stakeholders to step up efforts to end child marriage and FGM.
Gillian Mellsop, UN Resident Coordinator, a.i. said in her remarks at the event that Ethiopia needed to move in a coordinated manner to eliminate FGM and child marriage. She noted that the UN has been working with government, other partners and communities to support the elimination of these harmful practices, which are resulting in positive changes.
During the summit, various sector ministries and other stakeholders reiterated their commitment to support the country's efforts to eliminate child marriage and FGM. Adolescent girls who were invited to speak at the event called on the gathering to ensure that they are protected from the two harmful practices and are empowered.